Journey advertising is not a buzz term. Most consumers go through a journey before placing an order or purchasing a product. For advertisers and brands, understanding that path or journey involves examining the consumer's shopping habits, analyzing their behavior, and – in the end – helping the consumer find what they are looking for.
Journey advertising is a transformational shift in how marketers and companies reach their consumers with personalized, targeted messages unique to each stage of the marketing lifecycle.
What is a customer/consumer journey?
A consumer journey is the path of interactions or steps a consumer has with a product, service, or brand on the way to making a purchase. The route includes understanding how they found the website or platform, their shopping habits, and their behavior patterns along the conversion process.
Consumer journey mapping requires marketers to paint a picture of how a user or consumer may behave or react in the real world using traffic data, analytics, research, testing, and evaluation. The buyer's journey matters because they are the final decision-makers in purchasing decisions.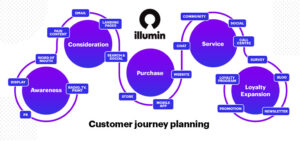 What is journey advertising?
Journey advertising reaches consumers at important moments along their journey with relevant messaging and creative content to achieve mutually beneficial outcomes. The consumer's journey starts from when they first interact with the brand to continued brand advocacy.
Journey advertising is extremely customer-centric and allows marketers and brands to react to consumers in real-time. By responding to individual consumer behaviors and buying patterns, journey advertising shapes the buying experience with relevant engagement. It marries buyer personas with product capabilities and establishes awareness around the brand.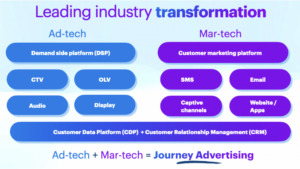 What is journey marketing?
Journey marketing can be defined as the approach marketers take to understand user interactions with the brand at every critical point in their journey. A journey marketing strategy comprises online ads, OOH ads, TV/print ads, social ads, PPC, blog, email, and other activities undertaken to optimize and improve the consumer journey.
What platforms do you use for journey advertising?
Journey advertising works across platforms. There are many channels that can be benefitted from journey advertising. Journey advertising works on channels like email, web, SMS, social, apps, in-store, and even DOOH.
How do you target audiences for journey advertising?
Audience targeting is an integral part of journey advertising. Information is gathered from multiple sources to identify, segment, and target audience. The common sources of data include
1st party data and 3rd party data segments that help identify new audiences. Cookieless targeting (by focusing on first-party data) makes it easier to target gen z, multicultural, and other new audiences. The movable middle audience can be targeted to influence their buying behavior and patterns.
What are the benefits of journey advertising
Journey advertising goes beyond programmatic advertising in finding new audiences based on past data. By delivering the right message to a buyer at the most opportune time, they are more likely to pay attention to the product or service. There is increased retention and engagement.
These are the prominent benefits of journey advertising that help businesses meet specific needs:
Relationship with consumer
Journey advertising helps brands build a relationship with the consumer. When consumers see an ad with content that addresses their pain points, they are more likely to click it. As their journey progresses, relevant ads help them build a relationship and develop loyalty with the brand even before an actual product demo, request for more information, or cart purchase.
Active engagement over annoying advertising
Consumers are swamped with information and advertising content that can annoy them through repetition and incorrect targeting. Journey advertising helps engage consumers in a meaningful way. They see relevance in the product or brand and continue to engage, simultaneously helpings advertisers with retargeting campaigns.
Understand audience better
When advertisers utilize journey marketing, they can craft better buyer personas. There is a better understanding of the audience which can influence how ads are made, the tone and language, and more, leading to increased conversions. This boosts efficiency and creates better targeting as an end result.
How does journey advertising influence one's marketing funnel?
Journey advertising influences marketing decisions as a marketer can watch audiences move through their journey in real-time. In turn, stages of the marketing funnel can be linked to specific touch points an engaged user encounters through journey advertising.
As the audience progress towards purchase, marketers can tailor their approach and personalize the process for users.
Journey advertising helps detect and identify weaknesses and concerns in the consumer journey and contextualize results relevant to the user search.
All of these facets of journey advertising ensure success by making certain the interconnected pieces work at every level.
illumin – Journey Advertising Platform
illumin is a journey advertising platform that empowers marketers in their journey planning, execution, and reporting process. The state-of-the-art ad-tech platform takes consumers from a stage of awareness to conversion and beyond.
illumin is the only journey advertising platform that aligns how marketers think with modern technology that connects customers from awareness to engagement and conversion in a singular view. The journey canvas is the heart of the illumin platform and allows users to easily customize their ad campaigns as they see fit on a hassle-free, drag-and-drop interface.
To know more about illumin, book your free demo