Social Media – a giant of internet culture and a massive advertising platform.
The history of social media tells a story of major cultural change. With such a big shift in the way people keep in touch, it's hard to imagine that this medium is less than twenty years old. That's because the groundwork for today's social media was laid years before the apps and platforms of today made their debut. 
While Facebook may be only 19 as of 2023, the very first use of the internet to socialize dates all the way back to 1978 with the creation of the Computerized Hobbyists Bulletin Board System. We can only imagine the hilarity of text-based memes.
So, how did social media make the climb from a simple chat room, to becoming the major player in advertising that it is today? 
The emergence of social media 
The history of social media starts, as mentioned above, in 1978 with the creation of the Computerized Hobbyists Bulletin Board System. This digital bulletin board's popularity, alongside increasing modem speed, led to the creation of over 1000 similar systems across the country.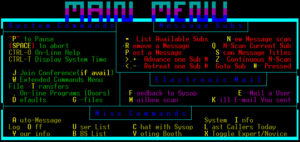 This ground work is what led to the emergence of more recognizable social platforms in the 1990's. In 1992, America Online launched, known more commonly as AOL. AOL grew exponentially and by 1995 had an estimated 3 million users worldwide (thanks to an aggressive floppy disk campaign spanning years), interacting through email, forums, and chat rooms. 
While several chat platforms launched and grew in popularity in this time (ICQ, MSN Messenger, Jabber, etc) they focused solely on chat and not the social media aspects of those that followed. 
In 1997, sites dedicated solely to social networking launched – Six Degrees and Bolt. 
Six Degrees was founded by Andrew Weinreich, who is often credited as the "father of social media," in order to help people create connections and meet new people.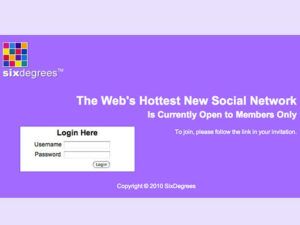 Bolt was designed by Dan Pelson to give teenagers a dedicated space to connect with other teens through email, voice mail, chat, and message boards. Unfortunately, Bolt didn't stand the test of time and shut down after 11 years.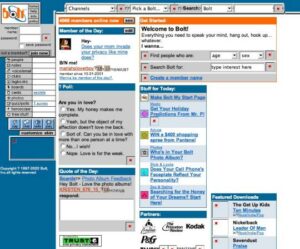 Social media in the early 2000s
The early 2000s marks a renaissance in social media. The new millennia brought with it better home computers, which meant more homes had a personal PC and more users flocked to the internet for new and exciting ways to socialize. 
In 2002, Friendster launched as "an online community that connects people through networks of friends for dating or making new friends." This new platform was quickly followed by MySpace and LinkedIn in 2003. 
The once famous MySpace was the ultimate spot for teens and young adults to gather online – ranking friends, publishing blogs, customizing profiles, and sharing photos and music. MySpace marked a shift in social media into the mainstream. 
LinkedIn was an equally big development, with the networking site remaining the primary professional space online today. 
The early 2000s also saw the birth of Facebook in 2004 (originally launched as Thefacebook). Facebook's popularity quickly exploded and moved far beyond the Harvard campus it was meant to serve, becoming the biggest social network of the time. 
This was followed in 2006 with the creation of Twitter and later by the 2010 launch of Instagram. 
The birth of paid social
With the rise of social media came the birth of social media marketing. Social media companies need to make money in order to operate and since usership on these sites is free, social ads are a critical part of their business model.  
As early as 2002, social media sites were using advertising to target specific demographics on their platforms and between 2005 and 2006 Facebook introduced its own advertising platform. This let advertisers easily target Facebook users based on age, location, and interests. 
Twitter and YouTube also both introduced ad options shortly after their founding, with YouTube even making a partnership program in order to share a portion of its ad revenue with creators. In 2007 to 2008 Twitter also introduced Promoted Tweets. 
Promoted Tweets changed the game, giving advertisers a subtle way to boost their own messaging while blending in with the rest of the site's content. 
Instagram introduced its own advertising options in 2013, a full three years after the app first launched. 
Since then, advertising options have continued to evolve on each of the major platforms, and on new platforms that capture the public imagination. 
Facebook has created sponsored stories, carousel ads, and Custom Audiences, LinkedIn introduced LinkedIn Ads, Instagram introduced video ads and story ads – each social platform has continued to evolve their ad options as their platform has grown and changed. 
This has given marketers new tools to reach the almost 4.8 billion social media users across the globe.
Social media marketing today 
Social media is continuing to evolve and with it, social media marketing. Today, there are three main ways that brands reach audiences through social media: 
Paid social:

paid social refers to paid promotion on social media sites. This can be through ads or sponsored posts. 

Social posts:

brands can also engage on social media by creating their own social posts in order to generate organic traffic. 

Influencer marketing:

Influencer marketing refers to partnerships made with popular social media users. These users, also known as influencers can share or promote your product or service, acting both as an ad and a testimonial. 
In terms of paid social, new ad formats and targeting options are regularly introduced, so it's critical that marketers stay on top of the options available to them in order to get the most for their ad-spend. 
It is equally important for marketers to be aware of the latest changes to the social landscape, including the launch of new platforms (like Threads) and major changes to existing players (like Twitter's recent rebrand to X, and new advertising rules).
Social trends and technology both constantly change; it makes sense that social media marketing is constantly changing as well. Savvy social marketers know that keeping on top of social trends and making use of digital content creators are great ways to stay ahead of the competition and reach critical audiences online. 
To see more from illumin, be sure to follow us on Twitter and LinkedIn where we share interesting news and insights from the worlds of ad tech and advertising.