Social media is a must among digital marketers; as we settle into a new year it is exciting to see new trends and predictions come to life.
This year paid social continues to amaze with unique creatives, fresh perspectives, and interactive posts. 
Social media marketing trends of 2023 
According to Forbes, we can expect to see "more unpolished content and personalized interactions" in 2023, as well as "more 'bite-sized' content." Alongside this quick and witty content, social users can expect to see "open and honest" communications as well as greater transparency – particularly where it concerns social and environmental impact. 
These trends highlight greater shifts in social media use and attitudes of the young adults that largely populate these digital spaces. As has been the case for the past few years, more users are shifting away from longer-form video content towards shorter format platforms, like TikTok. Additionally, more business users are shifting away from Twitter with recent developments and towards other platforms like LinkedIn. 
The paid social leaderboard of 2023 
While there is still time for more entries for 2023's best-in-show in social, here's what has caught our attention so far this year.
Starbucks – "Energy That's Good"  Campaign
Starbucks hit it big with this Instagram campaign, jumping on one of the latest post-pandemic trends. The coffee shop giant promoted its new vitamin infused drink, Baya, by partnering with influencers and talking directly to the more health-conscious audience that has arisen in the after-math of the pandemic. 
The bright colors capture attention and the up-beat content from Dancing with the Stars winner, Jordan Fisher is engaging. This ad brilliantly creates brand awareness and encourages new customers to give the chain a try.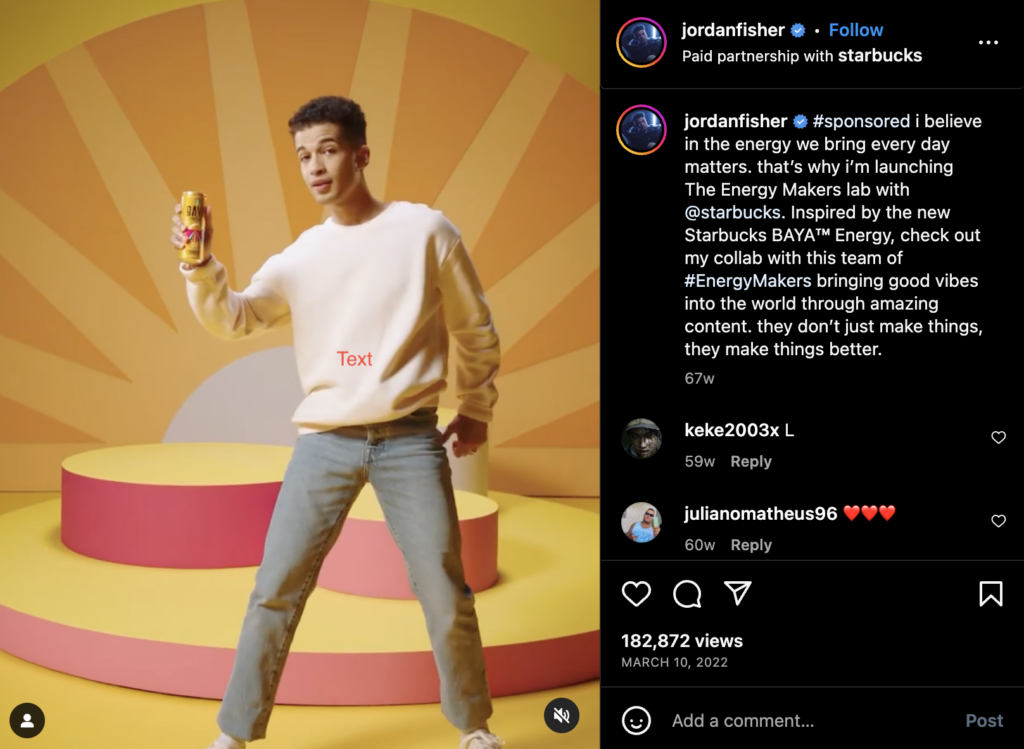 Dove – #DetoxYourFeed Campaign
Dove has long been known for its social campaigns and its #DetoxYourFeed campaign is no different. With this social media campaign, this beauty company has bolstered a cause that is sure to resonate with its customers and grab the attention of social media users everywhere. From YouTube to Instagram, this campaign works to bring attention to the potential harm of online social behaviour. 
As more conversations are brought into the limelight regarding the toxicity and mental-health damage that can be caused by social media, Dove is working to create a safer digital world. This ad campaign also works within the awareness stage of the funnel, working to establish Dove as a caring and forward thinking beauty brand. 
GoPro – #GoProMillionDollarChallenge
GoPro is well known for its clever campaigns, harnessing user-generated content and encouraging its followers to engage, respond, and share. This time, GoPro has used a clever hashtag and enticing reward to get users to generate a wide range of exciting videos – videos that perfectly highlight the company's long-standing slogan, "The world's most versatile camera." 
This ad campaign works as an awareness piece, but it also works within the consideration stage of the journey. It lets potential customers see the full capability of GoPros products and to imagine themselves using its cameras in their own lives.
The #GoProMillionDollarChallenge Highlight is here. 🌎 We asked you to show us the world through your lenses. The result was 29,000 #GoProHERO9 Black submissions from 125 countries. Congrats to the 56 #GoProAward recipients taking home $17,857 each. 🤑https://t.co/g5OFtVYeTZ pic.twitter.com/B6JKpoJ7hk

— GoPro (@GoPro) December 15, 2020
Key Takeaways
This year's best paid social campaigns have a few easy lessons for marketers looking for inspiration.
Follow trends –

social media trends almost guarantee strong viewership. Not only will trends grab people's attention, they are more likely to be shared and brought to the forefront of user's feeds.

Engage users –

user engagement will boost your content far beyond your ad-spend. Instead of simply paying for viewership, engagement lets your message spread and travel in ways you've never imagined. Consider what calls-to-action you can include in your creatives to get followers participating.

Say something – by saying something meaningful you can connect with your audience and establish your brand among an audience that shares your brand's values. 
To see more from illumin, be sure to follow us on Twitter and LinkedIn where we share interesting news and insights from the worlds of ad tech and advertising.