In advertising, the term programmatic refers to the buying and selling process of digital ads. 
Programmatic advertising is a critical tool for marketers, letting them optimize digital campaigns and create efficiency in their ad buying process and social media marketing shouldn't be an exception to this. 
In April of 2019, eMarketer released a forecast for programmatic social. Since then, they have had to increase their estimates in subsequent reports. This is due to a booming performance on social networks – in particular Facebook, Twitter, and Snapchat. This growth leads forecasters to predict continued preference for social within the programmatic space going forward. 
Eric Haggstron, an eMarketer forecasting analyst, says that "advertising in a cookie-free mobile app environment where users spend much of their digital time is complicated and difficult. Social networks prove to be the major exception. They've made it relatively easy to target audiences at scale in an in-app environment."
So, why is it that so many advertisers are including social media in their programmatic strategy? And should you be as well? 
How is social media programmatic? 
Programmatic advertising lets marketers automate several aspects of the digital ad buying process through the use of new and evolving technologies. It can be used to target specific audiences, to geo-target, or to take advantage of cross-channel marketing across on video, mobile, display, Connected Television (CTV), and on social media. 
In the USA this year, marketers will spend more than $57 billion on digital display advertising. More than half of this will be on social platforms. 
Additionally, in 2019, 56.3% of the $57 billion that was spent on programmatic ads went to social networks. In 2021, this increased to 57.6% and this pattern is expected to continue.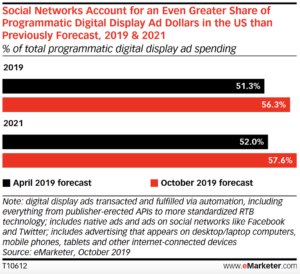 Why programmatic social is so effective 
According to AX Insights, there are three main advantages to including social media in your programmatic strategy. 
Greater efficiency
Programmatic advertising helps to automate the social media ad buying process, which results in time saved. By using a programmatic approach, advertisers can allocate more time to audience research, strategy development, content creation, and other marketing priorities. 
Increased control and transparency
Programmatic social advertising also lets marketers maintain control of ad purchases and target audiences. They are also able to do so with a greater amount of precision. This is because programmatic approaches provide visibility into the success and performance campaigns while helping to identify the most effective strategies and tactics.
Better targeting, broader reach
Finally, programmatic advertising easily enables precise targeting of personas and social media users based on a wide range of behaviors and characteristics. These can include social media activity, websites and apps used, offline data (ie: loyalty card subscriptions), demographics, other interests, and purchase history to name a few.
By including social media in your programmatic strategy, you can better optimize your social campaigns and create efficiency in the ad buying process. You can also more effectively include social posts and ads in your journey advertising, planning out cross-channel pathways that include social media alongside the rest of your programmatic journey.
To see more from illumin, be sure to follow us on Twitter and LinkedIn where we share interesting news and insights from the worlds of ad tech and advertising.