The biggest retail season of the year is just around the corner. In preparation, marketers need to know what techniques, strategies, and content are trending well with consumers.
Right now there are several retail trends to consider when building out a marketing plan. The latest research from eMarketer shows just how important consumer behavior and preferences are when building out a new ad strategy. 
Retail marketing strategies 
These are some of the most important marketing trends in retail right now:
Unique and relatable creatives
While mass produced, AI driven content is tempting as a means of saving time, it risks lacking the creative input that leads to high quality content. And with the presence of so much AI driven ad material, creative and innovative content is more important than ever. 
According to eMarketer, "Creative execution is the No. 2 most important factor for US brand-side marketers when selecting an agency."  Price is the only factor above creativity, making it crucial for agencies and brands wanting to get ahead.  
Additionally, creativity lets marketers stand out to their audiences, but also within social media algorithms since creative execution is highly factored within algorithms. Social media networks often include uniqueness as a part of their algorithms so that they can better determine which content is best for specific audiences. 
Cross-channel approaches using CTV advertising 
Not only is CTV continuing to increase in popularity, but the number of users multi-screening is increasing as well. Multis-creening refers to users watching TV while using another device to scroll on social media or browse the internet. Gen Z, in particular, uses multiple screens simultaneously, with nine in ten internet users from 18 to 24 in the USA browsing online while watching TV.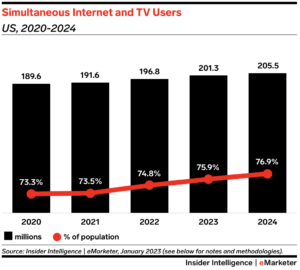 TikTok 
"The clock app" as some have affectionately called it, remains an incredibly effective way to reach new consumers, particularly Gen Z and millennials. With ad spend on influencer marketing in the US growing, it comes as no surprise that social ads are growing in importance too. This is particularly true on TikTok, which has proven effective at building connections and trust with younger generations. 
On TikTok alone, influencer spending is expected to grow by 27.8% this year. This is because of the app's impact, easily creating community through small, but targeted audiences. 
Authentic communication
Advertisers know authenticity is critical for targeting Gen Z and Gen Alpha consumers. But what's being discovered, is that authenticity is also effective when targeting older demographics. 
This is exemplified by the success of Brooklinen, Abercrombie & Fitch, and TikTok, all of whom have successfully fostered authenticity among their users, which has led to stronger engagement and greater sales. 
It's important to keep in mind that what 'authentic' looks like will continue to evolve as audiences grow and change. A sense of authenticity is something that needs to be continually cultivated, rather than an evergreen project that can be updated every few years. 
Retail media
Retail media is continuing to trend upwards and understanding it is critical for taking full advantage of this marketing opportunity.
Retail media refers to digital channels owned by retail companies. Companies may own one or even several channels that they use to market their own products, as well as offering a space for third parties to advertise. These platforms are known as RMNs (or retail media networks).  
RMNs give retailers a space to reach new audiences while collecting first-party data to inform their future marketing efforts. Amazon and Walmart are both great examples of retailers with their own RMNs. 
Once defined by on-site search and sponsored product ads, retail media is growing, moving into a new phase of on-site, in-store, and multi-channel marketing. This expanding opportunity requires a more detailed understanding of what retail media is and how it works. As eMarketer analyst Andrew Lipsman said in Behind the Numbers: Reimagining Retail "the opportunity gets much bigger, but realizing the opportunity also gets a lot more complex." 
According to the Interactive Advertising Bureau's (IAB's) Retail Media Buyer's Guide, there are three types of retail media that marketers need to understand: 
On-site ads:
These are ads served on a retailer's own platform. A good example of this is Amazon ads, including sponsored products, sponsored brands, and display ads. 
Off-site display ads: 
These are ads that use retailer data and are delivered via outside partnerships on third-party sites. Off-site display ads are typically delivered via web, app, display, audio, digital video, digital out-of-home (DOOH), or in-game advertisements.
Social media and connected TV (CTV) ads can also be considered off-site display ads. This is because brands can still leverage retail media partnerships and data when buying ads. CTV ads purchased using these networks typically have better targeting measurement capabilities.  
In-store digital advertising:
These are ads displayed in brick-and-mortar retail locations in order to target customers and leverage consumer data in person. In-store digital advertising can include product displays, signage, and video screens within stores. They can also include location-based push notifications and retail app offers for in-store customers. 
With the largest season for shopping creeping up fast for advertisers, these trends may just be the key to get a foothold in the competitive mayhem that is holiday marketing. By understanding the techniques and approaches that are currently working, and why they're working, marketers can target customers through effective and meaningful communication mediums.
To see more from illumin, be sure to follow us on Twitter and LinkedIn where we share interesting news and insights from the worlds of ad tech and advertising.