This impactful ad campaign tackles unconscious bias head on for international women's day.
Unconscious bias is an impactful ad from CPB London and was created in partnership with OpenMedia, Assembly, and others for International Women's Day 2022. This ad takes a stand and presents a strong message, a message which is easy to understand and even easier to share. 
International Women's Day happens annually in March, bringing attention to the issues and inequalities women still face every day, around the world. In 2022, CPB London created this campaign to bring attention to the issues faced by women around the world.
Women continue to face bias in the workplace, bias that is often not even realized by those who hold it. With this campaign, CPB London impactfully draws attention to these too common hidden beliefs and creates a conversation aimed at breaking down barriers through self-reflection. 
The simple visuals work to push the importance of the message without filler, distractions, or complications. Instead, the copy makes this ad great.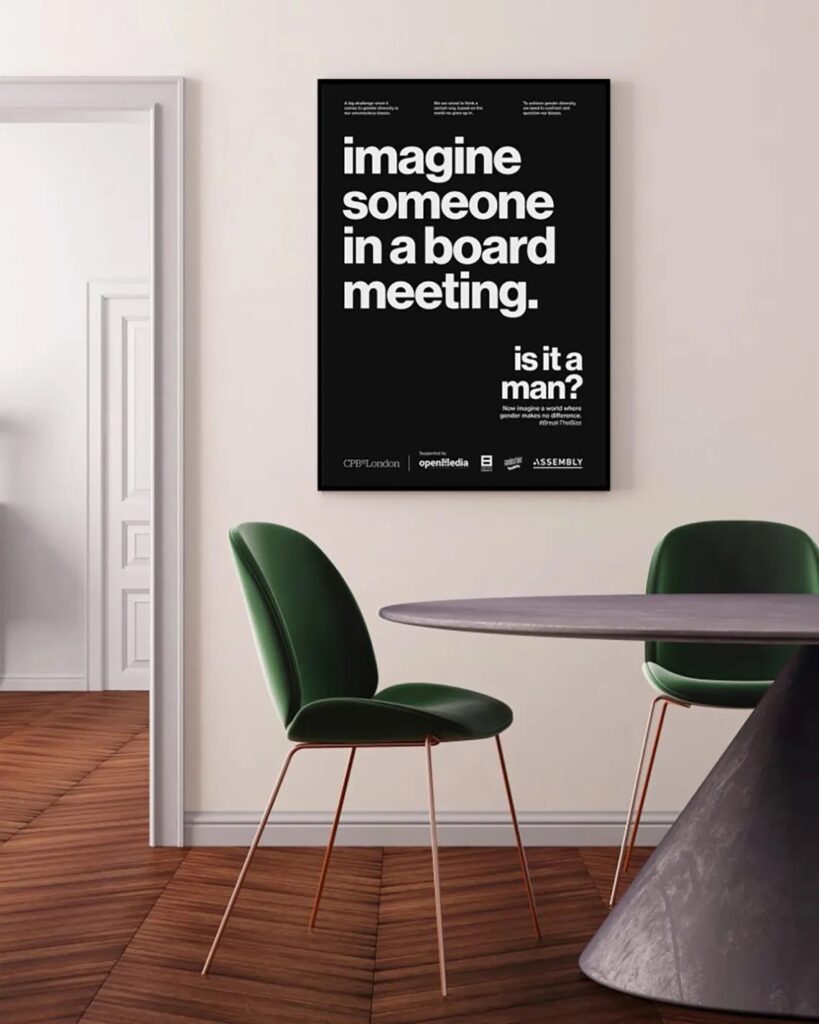 Unconscious Bias presents a
 viral message
What makes an ad go viral? CPB figured it out with this poster, as it did just that shortly after its debut in 2022 on International Women's Day.  
This campaign boldly asks: "Why is gender diversity still a problem in the workplace?" and looks to answer that question with a simple thought experiment. 
The simplicity and power of this material make it infinitely shareable and creates a conversation that carries it across board rooms, kitchen tables, and the world wide web. The simplicity of the messaging is just one reason why this campaign is an excellent example of purpose based marketing. 
Copy is everything in this ad
When making ad creatives there are several components that come together to create a final product. From photography to graphic design, so often visuals are the elements that stand out, but this campaign takes a different approach. 
Instead of bold visuals, this ad uses bold copy. It's provocative, simple, and punchy. By phrasing the issue as a question, the ad initiates a conversation that cleverly promotes acknowledgement of gender equality in the workplace.
A simple question becomes a catalyst for deeper thought and consideration, making people examine spaces that they may have previously taken for granted as equal. 
Unconscious Bias was created with shareable, tangible media
As well as having a strong, purposeful message, the ad is also tangible which makes it easy to react to and share among friends. 
Also, alongside the campaign's posters, CPB London also created a coloring book for families to complete together and a hashtag to make it easier to share the end result on social media. 
The additional media contributes to the campaign's end goal: to ensure that unconscious bias isn't passed to future generations, and that the media is easy to share and find in every digital nook and cranny. 
With this thoughtful campaign, CPB London creates a viral message that marks International Women's Day with meaningful action. While it is easy for companies to mark such occasions with simple, celebratory posts, CPB and its partner's went further, creating a campaign that not only made a name for the agency, but made a difference. 
To see more from illumin, be sure to follow us on Twitter and LinkedIn where we share interesting news and insights from the worlds of ad tech and advertising.