It is crucial that advertisers use unique and creative media in order to stand out in an increasingly crowded world of marketing.
The world of advertising is crowded – and hey, that's nothing new. From programmatic, to CTV, to digital – advertising surrounds us all day, every day. This makes it increasingly difficult to stand out. It also makes it easier for people to tune out ads and simply ignore messaging. There are several ways to compete in this landscape, most notably, by being creative and making unique content.
The dictionary definition of creativity may be basic, but it's a good starting point: "the ability to produce or use original and unusual ideas." 
It is this unusual and unique presentation of ideas that makes advertisements stand out. And not just stand out, but spread – being shared and talked about among audiences that might otherwise let an ad fade into the abyss. 
Why it matters
There are many reasons to prioritize creativity in your advertising journeys. Most notably, creativity matters because it lets you create unique, eye-catching, and memorable advertising. It lets your brand shine, becoming noteworthy, and, importantly in a digital world, it makes your brand shareable. According to Bruce Rogers recent Forbes piece on Ceros, "creativity is a core attribute of successful marketing."
Creativity comes in many forms and can be difficult to define. It makes answering the question "what makes an ad unique" long winded and difficult to answer, but not impossible. 
To make a truly unique ad it is important to know what has been done in the past as well as what is being done now. Thinking outside of the norm and making something that truly stands out. That said, an ad still needs to make narrative sense and fit into the customer journey, proving the messaging that your brand needs to move forward. 
Some of the best creatives in advertising from the past few years
Thankfully, creativity is in full force at brands both big and small. Here are some examples of extremely creative campaigns from years past.
OLG – Dream Drop
The Ontario Lottery and Gaming Corporation's (OLG) recent campaign is both refreshing and unique. OLG partnered with Mr. Saturday to create a line of clothing – the "Dream Drop" collection. Every piece in the collection is a wearable lottery ticket, redeemable for one $5 ticket every week for a year. Not only that, but the proceeds from this capsule collection went to Black HXOUSE, who works to empower BIPOC Individuals with mentorship and learning opportunities.
IKEA – Proudly Second Best
 In order to market some of its new baby furniture, this Swedish home goods giant decided to put parents first. By cleverly marketing themselves as "Second Best" IKEA puts the parent-child relationship at the forefront and subtly shows how their furniture can fit perfectly in the lives of new families. 
Budweiser – International Women's Day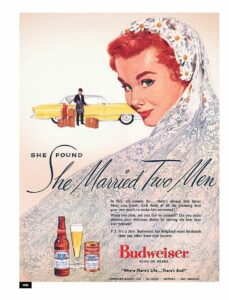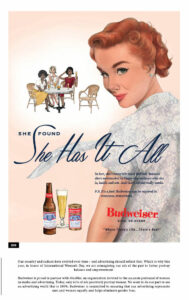 In 2019, Budsweiser adapted some of its more sexist ads from the past into modern images of empowerment. These ads wonderfully capture the vintage art style while updating the content to show how far women, and the company, have come in the past half a century. 
Keeper's Heart: almost everyone is excited
Keeper's Heart Whiskey uses warm imagery with contrasting language to highlight the taste and feel of its product. This ad also wonderfully humanizes the company's team members while embracing its homeland and culture. In addition to being a wonderfully creative piece, this ad is the perfect send off to the brand's former Master Distiller, Brian Nation, as he starts a new chapter in the US. 
Virgin Trains: Very Fast Chair
 Virgin Trains uses hilarity and imagination to rebuild its trains, highlighting their comfort, practicality, and passenger-first attitude. This ad begs the question, "how would you like to travel" and answers it step by step with funny imagery, comically, but accurately showing everything it has to offer its passengers on board. 
Key Takeaways
What can the most creative ads teach you in your own marketing efforts?
Stand out –

Being unique means being different, it's okay if it feels like your ad doesn't "fit in", it shouldn't.

Play off the past –

By highlighting what's been done in the past, advertisers can push away from it and carve a new future.

Image can be everything – Use imagery that stands out. It doesn't have to be bold in color, but it should be bold in its message.
To see more from insights from illumin, be sure to follow us on Twitter and LinkedIn!