CTV (or Connected TV) advertising is an integral part of programmatic ad strategies in 2023.
As the world shifts away from traditional TV and towards streaming, including CTV ads as part of a holistic advertising journey is necessary. But how did we get here? Why has CTV taken off the way it has and how can understanding the history of CTV advertising help advertisers predict where it will go next. 
What are CTV ads? 
Connected TV, often shortened to CTV, refers to streamed video content. This content is  streamed through smart TVs, connected devices (such as Roku, Amazon Fire Stick, Chromecast, and Apple TV), gaming consoles, smartphones, tablets, and other computing devices. The content can be provided by large streamers like Netflix or Disney+, local broadcasters, or user generated content sites like YouTube or Vimeo. 
The invention and continued development of these apps, devices, and platforms has given consumers a new way to engage with TV shows. Simultaneously, it has also given advertisers a new method to communicate with customers along their buying journey. 
Since its development, CTV has become the technical core for programmatic TV (PTV) and it differs from linear TV in that there is no set time that audiences are watching. Viewers can watch content at their own will – when they want, where they want, and for as long as they want. This is what has made CTV so desirable for audiences. 
Where did streaming start? 
It might feel like streaming only began a few short years ago – but the roots of CTV were sewn as early as the 1990s. The first ever live streamed event was a Severe Tire Damage concert in 1993, an American garage rock band. This was the first of several experimental, and little-watched, events broadcast on line in the 90s. 
Severe Tire Damage scored this gig thanks to its drummer, Mark Weiser, who worked at Xerox Palo Alto Research Center. This center is where "multicast backbone", also known as MBone, technology was developed in an attempt to make large scale streaming possible. The concert was broadcast by Xerox Palo Alto Research Centre in order to prove that their new MBone technology worked. 
Even with its small audience, the show was considered a success and in 1994 The Rolling Stones broadcast their own gig to a larger crowd. 
While MBone equipment was a success, it wasn't capable of what streaming can do today and only allowed 200 or so computers to stream an event at a time. But what MBone was able to do is start the ball rolling, encouraging other companies to invest in the development of better streaming technology. 
One of the companies to follow suit with investing in streaming tech was RealNetworks, which in 1995 launched RealAudio Player, later renamed RealPlayer when video streaming was added to the application. 
By 2000, RealPlayer had 215 million users. This accounted for a whopping 85% of the early streaming market.
Once the technology was available, the floodgates were open. In 2005, one of the most popular streaming sites of all time, YouTube, was born. YouTube was the first video-streaming site to capture the public zeitgeist, bringing in millions of viewers and revolutionizing online content. 
In 2007, just two years later, the video rental company Netflix, entered the streaming game with the debut of their wildly successful video-on-demand service.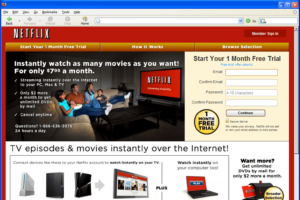 As technology grew and streaming became faster and higher quality, more and more users started to consider streaming sites like Netflix as an ideal way to watch TV. 
2019 marked a turning point in the streaming world. For years, YouTube and Netflix held a near-monopoly on streaming TV, but with its launch in 2019 Disney+ posed the first real challenge to these established players. Not only that, but services like Amazon Prime Video began creating shows capable of competing with Netflix's previously higher quality content, prompting more and more networks to explore the option of creating their own streaming services leading to services such as Hulu, Max, Shudder, and more. 
This era of streaming is known as the "streaming wars." And is the era we find ourselves in today. 
The future of streaming and CTV ads
With the continued increase in streaming quality and availability, more users are opting to "cut the cable" and cancel their traditional TV subscriptions. And according to the The New York Times, cable subscribers have been declining at a rate of up to 5.4% a quarter. 
Up until now, cable TV has been a major source of income for the entertainment industry, and that ad revenue needs to be recouped. This comes as streaming services are realizing a gap in their own income stream, with many unable to generate sufficient income from subscription fees alone. 
One of the most reasonable solutions for both of these problems has been to introduce advertisements into streaming content. This is welcome news for entertainment companies and advertisers alike. 
Disney+ announced its ad-supported subscription tier in 2022 and Netflix was close on its heals. According to Forbes Councils Member Dallas Lawrence, "The cracks in the Netflix no-ads-ever wall grew into full-blown fissures" and the streaming giant conceded to creating an ad-supported, budget friendly subscription alongside its controversial ban on password sharing. 
This ad-supported model has also been welcomed by some consumers, who are looking to spend less rather than more for streaming services as they look to curb expenses. 
With so many popular streaming services welcoming advertisers to their platforms, now is the time for marketers to invest in CTV advertising. By understanding how CTV ads work, how they differ from linear TV, and how to target streaming customers, brands and agencies can take advantage of a growing market. 
To see more from illumin, be sure to follow us on Twitter and LinkedIn where we share interesting news and insights from the worlds of ad tech and advertising.
Is CTV part of your marketing mix?
Learn how illumin unlocks the power of journey advertising
Get started!