Connected television (CTV) is revolutionizing the way audiences consume advertisements. Shifting behavior in how audiences watch their favorite TV shows, combined with new ad formats (like skippable ads) is dramatically changing the ways in which marketers write and create TV commercials. 
That is not to say that traditional linear TV is losing its huge influence on the advertising world. Certain kinds of TV, like live sports, are still watched most reliably on cable networks. Sports streaming only accounts for 4% of ad views on CTV, while games and tournaments continue to represent a large market for linear TV. There is no greater example than the Super Bowl, where viewers attract millions of dollars in ad revenue annually. 
These linear TV strongholds are critical for advertisers, who understandably are looking for new audiences as more and more TV watchers "cut the cord."
Entertainment shows, such as sitcoms, reality shows, and dramatic series, thrive on streaming, with 90% of viewers watching these types of programs through CTV. But just because linear TV ad opportunities are losing viewership, that doesn't mean the commercial break is going away – it's just evolving. 
CTV ads tend to differ from traditional linear TV ads; streaming ads tend to be shorter, and sometimes they are even skippable. This shift in ad duration has led to less narrative and punchier, to the point commercials. 
Since so many viewers are migrating away from traditional TV and cutting the cord, marketers are doing the same. This means that the format, style, and creative approach to ads is changing. 
The differences between different types of CTV ads 
While it's clear how CTV ads and linear TV ads differ from one another, with changes in style and ad length, it's not immediately clear how ads differ from one another through different forms of CTV. The main difference cross-platform, is ad length. The difference in optimal run time is important, as it guides marketers in their strategy and campaign development. 
A study conducted by TVision regarding viewer attention across CTV ad lengths found a third of streaming viewers paid full attention to advertisements, no matter their length, be it 15, 30, or 60 seconds. This study shows that marketers have the ability to engage audiences on streaming services like Netflix or Disney+ with a variety of ad lengths. 
The same study also shows that on CTV apps, like Roku and Firestick, shorter ads were more effective. It found that 15 second ads far outperformed their longer counterparts with 15 second ads capturing 48% of the audience's attention. In contrast, 30 second ads averaged 36% of the audience's attention and 60 second ads 19%. 
In regards to skippable ads, which are frequently found on CTV apps and user generated sites like YouTube, data from eMarketer suggests that an ad length of 15 or 30 seconds is the most likely to result in a completed watch.
While length is less important on a streaming service that more closely resembles traditional TV, on other applications, shorter ads are always more impactful and have broader reach.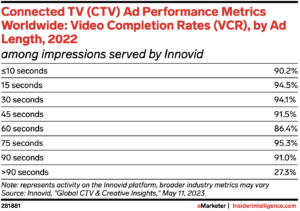 While linear TV ads still have a major role in the world of advertising, CTV ads are becoming an increasingly important tool in a marketers arsenal. The commercial break that has been familiar to consumers and TV watchers for so long is undergoing a major shift, altering to fit the needs, interests, and attention span of modern audiences. Understanding this change is crucial in maintaining relevance and having an impact on audiences as the age of streaming continues to evolve.  
To see more from illumin, be sure to follow us on Twitter and LinkedIn where we share interesting news and insights from the worlds of ad tech and advertising.