Once dubbed the "Twitter Killer", Threads launched in July 2023 with high expectations. In the midst of leadership controversy, the new app was slated by many to replace Twitter, (recently rebranded as X). But where is the social network now? And where is it likely to go in the coming months? 
Built by the team at Instagram, and announced on July 5 of 2023, Threads came onto the social media scene as a new way to engage in conversations and keep up with the latest trends via text updates. 
The new app would be accessed through existing Instagram accounts and posts would be limited with 500 characters. Users could also post short videos, photos, and even include links (which notably cannot be done on Instagram). 
Threads launched to some degree of fan fare with tens of thousands of new users signing up on day one – the app drew in 100 million users in its first five days. But since then, it seems that the sheen has worn off and usership isn't growing as quickly as one would expect.
Threads started a slow decline quite quickly after its initial launch. Threads' engagement has dropped by a whopping 79% since July.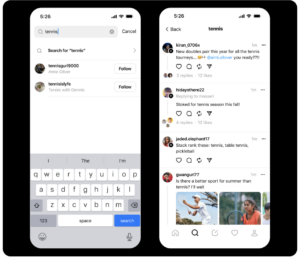 To understand why Threads is in the position it's in, it's important to understand why users signed up in the first place. According to a Statista survey from July 2023, a total of 40.1 percent of Gen Z US Threads users downloaded the app "because they thought it looked fun". 
Additionally, according to the same survey, 38.7% downloaded the app purely to try a new platform, and another quarter because they noticed their friends or family were signing up. Notably, one in five new Threads users in July downloaded the app as a direct alternative to X (Twitter). 
So, in order to clamor back usership, Threads has to fill these needs and meet user expectations. While challenging, that should be more than doable for a company as large as Meta. 
Where Threads can go from here
Up until recently, Threads was relegated to mobile use, but the network has recently changed that. In late August, Meta CEO Mark Zuckerberg announced the company was rolling out a web experience for Threads, meaning users can now access Threads in their web browser of choice. 
The company is also working on other updates. For example, Meta is currently testing keyword search on Threads in the Australian and New Zealand markets. It is also rolling out keyword search inSpanish (alongside English – covering the two most used languages in the company's target audience.
In addition, Instagram is holding several focus groups this autumn, engaging with digital creators in order to better understand how to woo new users and build the app into a social media staple. 
These updates, along with a slow, but predictable growth, give analysts hope that the app might just still become a social media staple. According to eMarketer, Treads users are continuing to climb steadily, in pact with new Instagram users.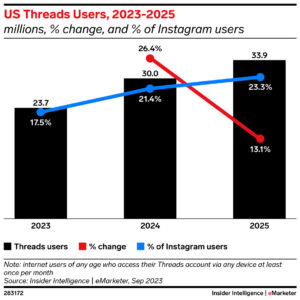 Alongside this slow, but steady growth, new improvements to the platforms have the potential to boost Threads to the level of its competitors. By working on adding and improving product features, as well as improving privacy (which has stifled the platform's growth in major regions like the EU), Meta is likely going to see growth from their new platform in the coming years.
One of the biggest hurdles is going to be loyalty and personal habits. X/Twitter continues to be many users' platform of choice, even with declining features and users, overpriced ad structures, and constant scandal from its CEO.
These developments should help Threads get ahead, but they are also proving that users are loyal to the platforms they love and changing their daily habits is difficult. 
While it's still a long way off before Threads becomes the go-to platform for trends and current events, it's not completely unforeseeable that the app could one day overtake X/Twitter in usership and ad revenue. 
To see more from illumin, be sure to follow us on Twitter and LinkedIn where we share interesting news and insights from the worlds of ad tech and advertising.