Trends are an impactful way to reach new audiences and expand your digital footprint.
Online trends are constantly changing and it's important to stay up to date in order to better target core audiences and niche markets. 
In 2020 houseplants were huge and in the early 2010's parkour was the big thing. Boy bands made it big in the early 2000's, before making way for pop punk.
Every hobby, interest, or artist has its time to shine, and strong social media marketing knows how to jump on the trends before the train leaves the station. 
Changing interests are a great way to target niche markets and appear fluid and human in a sometimes robotic online space.
One way to make sure you're open to new trends online is to make sure that (in addition to your evergreen social strategy) you have a strategy that can evolve to incorporate trends as they arise. 
Social media is used for socializing 
When using social media, it's important to remember the word social. Seeing broader trends and understanding how they relate to your business can be key in joining the conversation, and getting people interested in what you do.
"Being active on social networks is an effective way to stay connected with the latest in your industry" according to Alexandra Morales for LinkedIn
Using social media in order to socialize with audience members allows marketers to speak with them on their level and to engage in the way their audience expects. 
When signing into social media, users are expecting to socialize. Depending on the site, they may be looking to network professionally, read updates from friends and family, or laugh at jokes from their peers. Engaging with these audiences in the way they are looking to engage is essential for meaningful social media marketing. 
Additionally, following trends can give marketers a substantial edge in the worlds of social media marketing. As trends circulate, so too will your content, boosting you in algorithms and introducing you to new audiences.
While it's easy to focus on industry trends, it's also important to pay attention to social trends as well. What music is your audience posting? What memes do they share? Understanding your audience's behavior is important, and that includes the digital trends that they engage with. 
Examples of excellence in social trendsetting
These are some of the most successful trendsetters on social media right now. 
Duolingo's TikTok
@duolingo

Taylor tricksey Swift don't play with my heart erastour swifttok duolingo
Anyone on TikTok has seen Duolingo's antics and laughed along as their owl mascot dances along to the latest songs and participates in the latest trends.
This example is great because not only is the Duo owl dancing along to the latest TikTok dance, they are actively engaging with a trendy pop artist. The attention garnered by posts like this actively works to build brand awareness and drive users to Duolingo's language learning app. 
Sparknotes instagram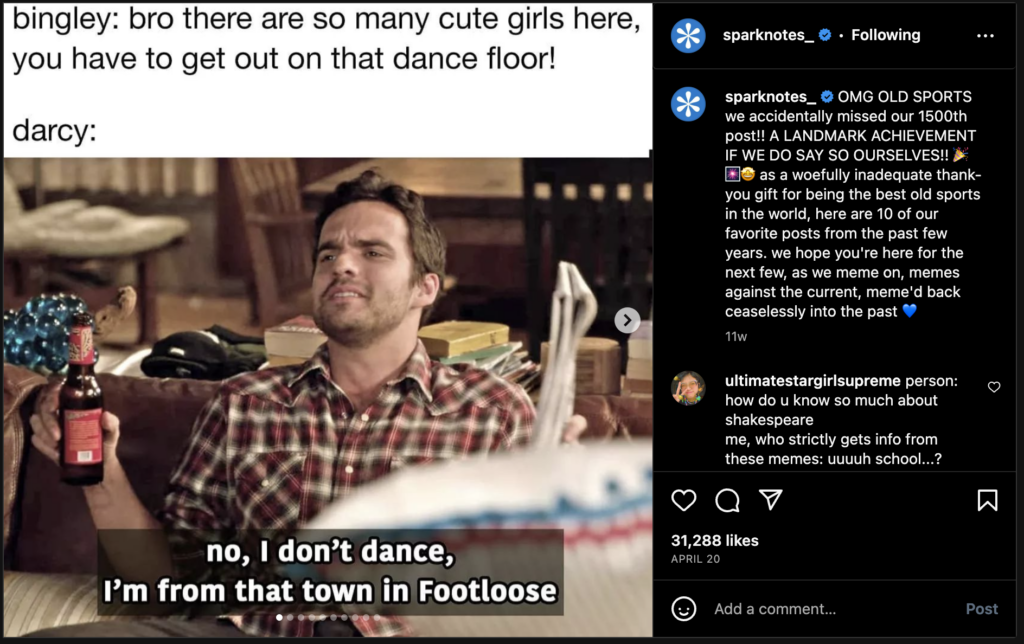 Sparknotes manages to make literature not only more accessible to a wide audience, but funnier too. By talking to their largely student audience with a fun tone of voice and making classic literature into familiar memes, followers can't help but laugh and read along.
In this example, Nick Miller from the classic sitcom New Girl acts out how Mr. Darcy feels about dancing in the classic novel Pride and Prejudice – fitting for this literature education site. 
Wendy's Twitter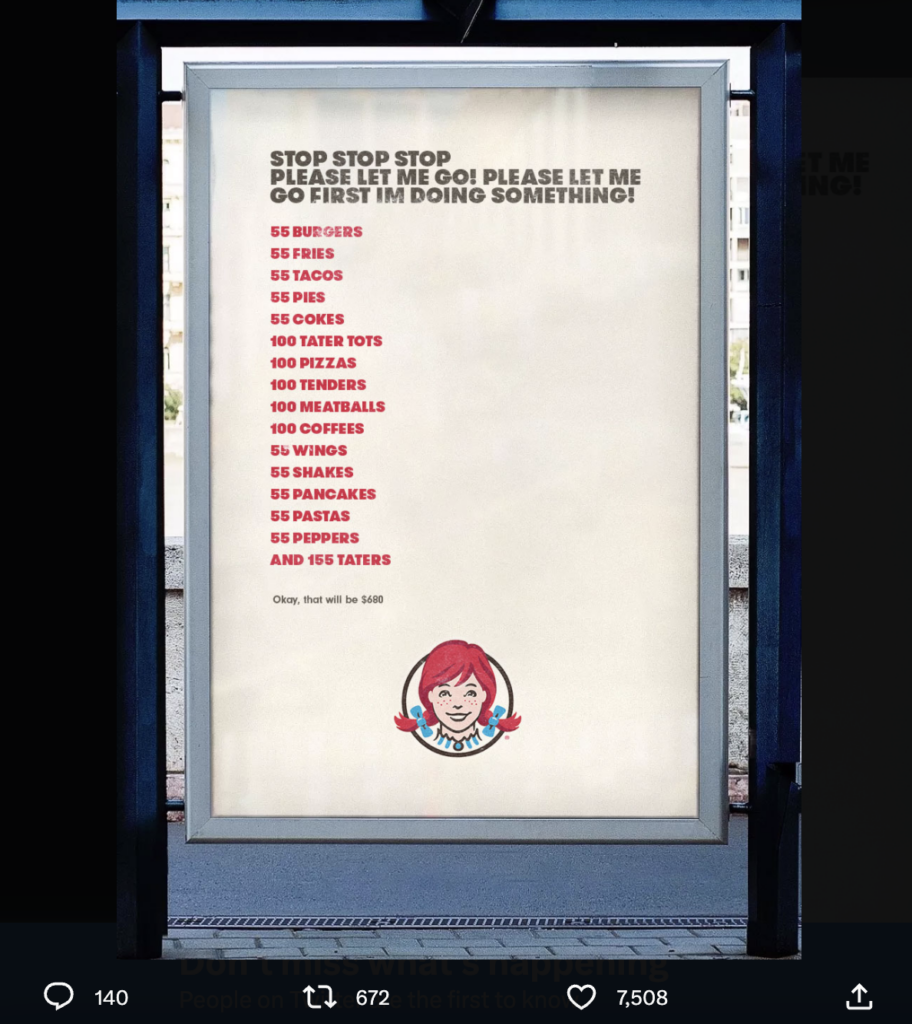 Wendy's has been a social media powerhouse for years, so it's no surprise they're on this list. The fast food giant engages online with hilarious memes, social media smack talk, and content that is as consumable as their food.
Here, Wendy's shares their OOH ad in which they reference the trending Netflix show, I Think You Should Leave. Later in the thread Wendy's makes sure to share plenty of quips and GIFs too, engaging with customers, ensuring they're top of mind next time they hit up the food court. 
Key Takeaways
Social trends are an impactful way to communicate with a target audience. By understanding social platforms, popular interests, and trending memes, marketers can make better use of their social media marketing resources.
Social interests change:

As time passes, the popular interests of an audience will change too. 

Social media is for socializing:

Users flock to social media in order to socialize, be it professionally, or casually, and marketing efforts should reflect this. 

Memes make memories:

Trending jokes, dances, and references are an effective method to connect with new and existing audiences. 
To see more from illumin, be sure to follow us on Twitter and LinkedIn where we share interesting news and insights from the worlds of ad tech and advertising.